Back when all diets focused on counting calories, nuts were a no-go. Then science saved us from depriving ourselves. It turns out that eating nuts can help us lose weight.
Whatever your eating style, there's room for nuts. They're good nutrition.
That includes peanuts, which are actually legumes that grow underground. We'll make them honorary members of the clan.
All nuts are high in fat and have significant fiber. But not all nuts are equal on every score. Let's look at 11 popular choices. Depending on your goals, you can choose nuts that do the best job of supporting you.
Do you want to keep your carbs low? Then stay away from pistachios and cashews. They're carb bombs.
But, just to make everything level and easy to compare, we're going to talk about 100-gram servings. That's about three and a half ounces. Almost a whole cup of almonds or peanuts.
It's probably a lot more than you PLAN to eat. But when there's a can of smoked almonds or a bag of salty pistachios at hand, it's definitely doable.
Wise Choices Abound
So… counting carbs? 100 grams of cashews will give you 22 grams. Pistachios will add 15 grams to your carb count. That's why keto and low-carb followers avoid pistachios and turn to pecans with only 4 grams. Macadamia and Brazil nuts are also good low-carb choices.
Do you want more omega-3 fatty acids in your diet? That's not easy with modern food. Unlike omega-6 fatty acids, which we get lots of, omega-3's don't occur in many vegetable sources. Vegans and vegetarians have to make a point of finding sources.
But there is one nut that offers you omega-3 fatty acids. Only one. It's walnuts.
How about fiber? Most nuts contain respectable amounts. The winner in this category is almonds, followed by Brazil nuts and peanuts.
Protein content varies greatly, too. If you are avoiding protein, chestnuts have far less than any other. If you want to increase protein, again, peanuts are the champ. Pistachios are close. Cashews, walnuts, almonds and hazelnuts are fine high-protein choices as well
A word to the wise, however. Nutella is not a healthy hazelnut source, albeit delicious—100 grams of Nutella will give you 5 grams of fiber (along with a lot of sugar). That's only half as much as in 100 grams of hazelnuts.
Nuts for Weight Loss
This may be the information you are waiting for. Yes, you can stay trim or lose weight and still eat nuts.
The reason for this is that the fiber and protein in nuts are satisfying. They help you feel satisfied longer. Eating an ounce of nuts also has helped dieters stay on plan better.
There are dozens of studies that back this up. This phenomenon was first noticed in the Nurses Health Study, which followed the diets and habits of more than 86,000 women. Later a similar study on men seemed to say nuts were good for weight, too. Multiple studies have confirmed that regularly eating a reasonable amount of nuts helps control weight and may help lose weight.
That's not the only benefit, though. In one study on 48 men and women, researchers divided everyone into two groups. Half ate pretzels as a snack. Half ate mixed nuts.
The nut eaters lost weight and reduced their waists. The pretzel eaters gained in weight and girth.
In addition, the nut eaters lowered their serum glucose, insulin levels, and triglycerides. They raised their antioxidant capacity. Pretzel eaters went in the wrong direction on all those scores. [i]
All Alike, But Different
Nuts all grow on trees, except the adopted member of the clan, peanuts. They are all high in fat, provide fiber, and give you some protein. Beyond that, you may want to consider different nuts according to your own vitamin and mineral needs.
To make it easy, we've provided a handy chart of 11 different nuts and their top benefits.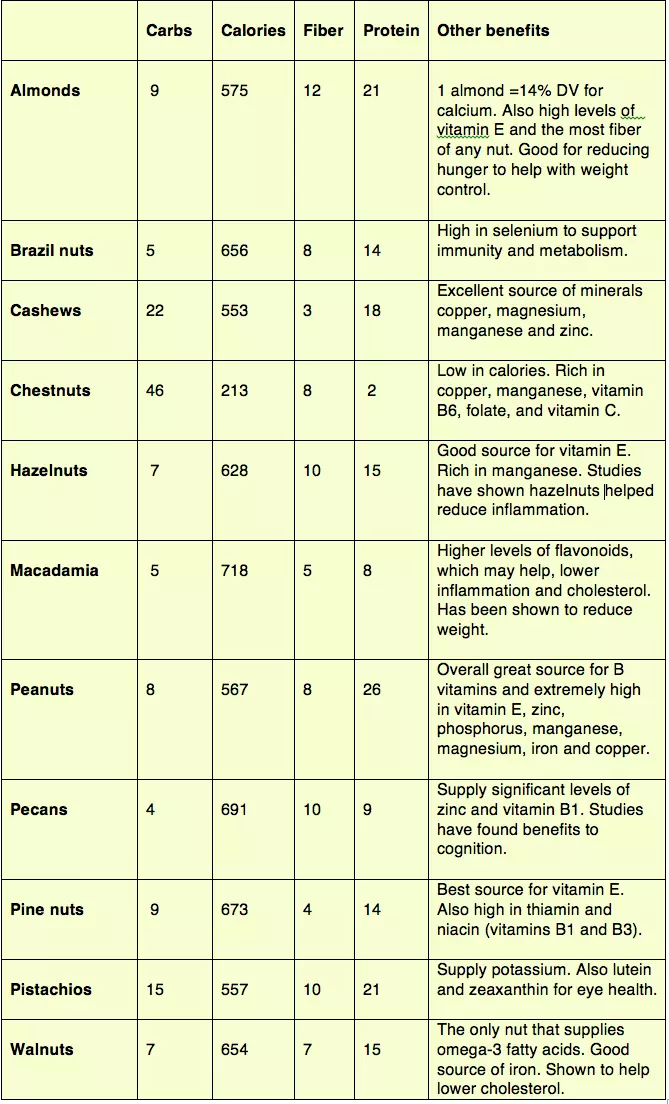 ---
[i]Abbaspour N, Roberts T, Hooshmand S, Kern M, Hong MY. Mixed Nut Consumption May Improve Cardiovascular Disease Risk Factors in Overweight and Obese Adults. Nutrients. 2019;11(7):1488. Published 2019 Jun 29. doi:10.3390/nu11071488