Anxiety – When Panic, Fear, and Worries Overwhelm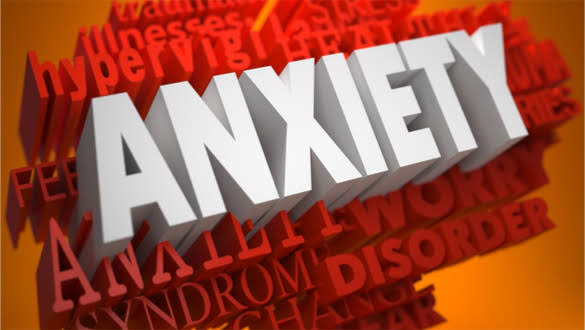 Many of us worry from time to time. We fret over finances, feel anxious about job interviews, or get nervous about social gatherings. These feelings can be normal or even helpful. They may give us a boost of energy or help us focus. But for people with anxiety disorders, they can be overwhelming. You might feel anxious when faced with a problem at work, before taking a test, or before making an important decision. But anxiety disorders involve more than temporary worry or fear. For a person with an anxiety disorder, the anxiety does not go away and can worsen over time. The symptoms can interfere with daily activities such as job performance, school work, and relationships.
Anxiety disorders affect nearly 1 in 5 American adults each year. People with these disorders have feelings of fear and uncertainty that interfere with everyday activities and last for 6 months or more. Anxiety disorders can also raise your risk for other medical problems such as heart disease, diabetes, substance abuse, and depression.
Fear and anxiety can cause significant problems in their lives, such as social interactions, school, and work.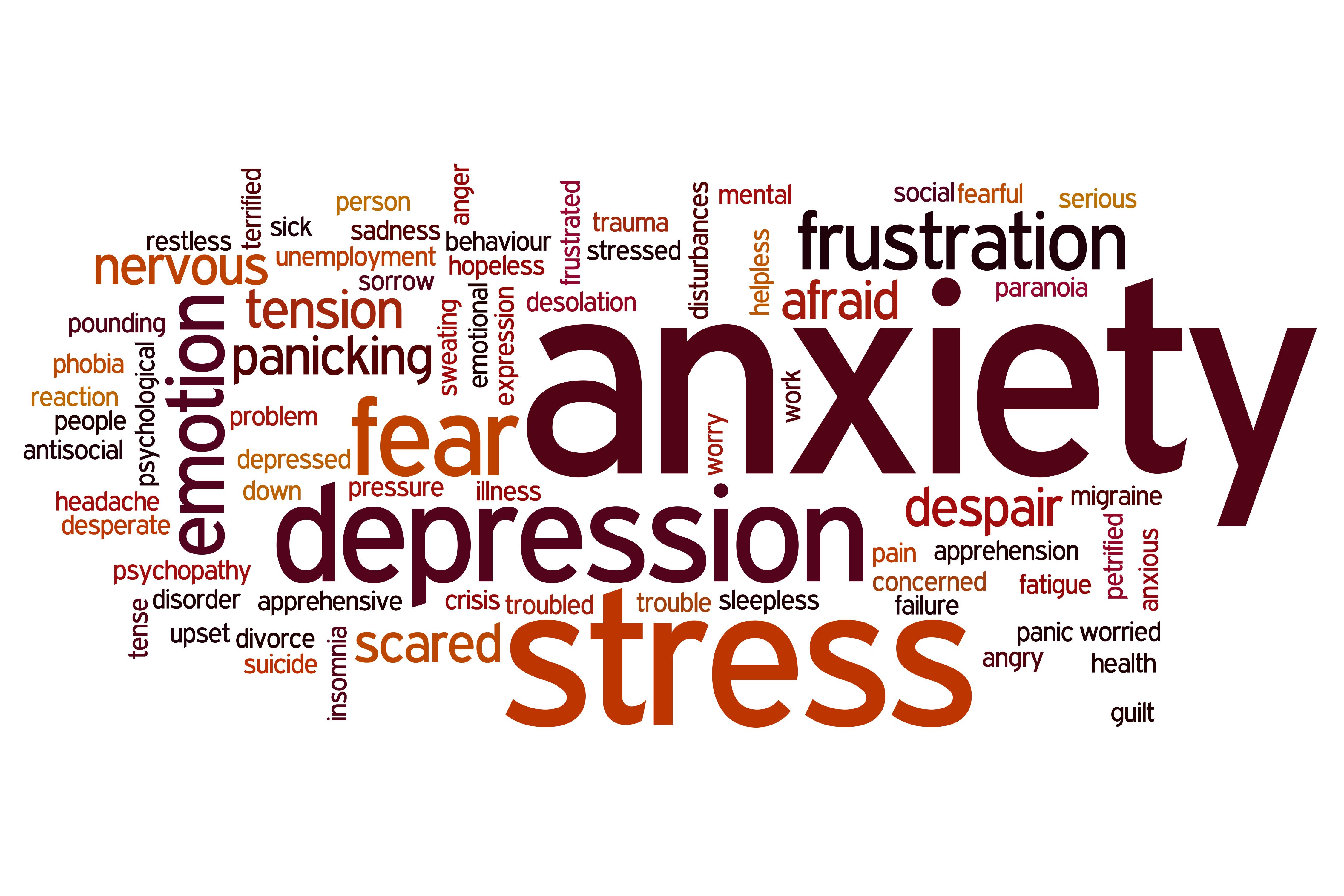 Generalized anxiety disorder symptoms include:
Feeling restless, wound-up, or on-edge

Being easily fatigued

Having difficulty concentrating; mind going blank

Being irritable

Having muscle tension

Difficulty controlling feelings of worry

Having sleep problems, such as difficulty falling or staying asleep, restlessness, or unsatisfying sleep
People with panic disorder have recurrent unexpected panic attacks. Panic attacks are sudden periods of intense fear that come on quickly and reach their peak within minutes. Attacks can occur unexpectedly or can be brought on by a trigger, such as a feared object or situation.
During a panic attack, people may experience:
Heart palpitations, a pounding heartbeat, or an accelerated heart rate

Sweating

Trembling or shaking

Sensations of shortness of breath, smothering or choking

Feelings of impending doom

Feelings of being out of control
People with panic disorder often worry about when the next attack will happen and actively try to prevent future attacks by avoiding places, situations, or behaviors associated with panic attacks. Worry about panic attacks and the effort spent trying to prevent attacks cause significant problems in various areas of the person's life, including the development of agoraphobia
People with panic disorder often worry about when the next attack will happen and actively try to prevent future attacks by avoiding places, situations, or behaviors associated with panic attacks. Worry about panic attacks and the effort spent trying to avoid attacks cause significant problems in various areas of the person's life, including the development of agoraphobia (see below).
Phobia-related disorders
A phobia is an intense fear of—or aversion to—specific objects or situations. Although it can be realistic to be anxious in some circumstances, the fear people with phobias feel is out of proportion to the actual danger caused by the situation or object.
People with a phobia:
May have an irrational or excessive worry about encountering the feared object or situation

Take active steps to avoid the feared object or situation

Experience immediate, intense anxiety upon encountering the feared object or situation

Endure unavoidable objects and situations with intense anxiety
There are several types of phobias and phobia-related disorders:
Specific Phobias (sometimes called simple phobias): As the name suggests, people who have a specific phobia have an intense fear of or feel intense anxiety about specific types of objects or situations. Some examples of specific phobias include the fear of:
Flying

Heights

Specific animals, such as spiders, dogs, or snakes

Receiving injections

Blood
Social anxiety disorder (previously called social phobia): People with social anxiety disorder have a general intense fear of, or anxiety toward, social or performance situations. They worry that actions or behaviors associated with their anxiety will be negatively evaluated by others, leading them to feel embarrassed. This worry often causes people with social anxiety to avoid social situations. Social anxiety disorder can manifest in various situations, such as within the workplace or the school environment.
Agoraphobia: People with agoraphobia have an intense fear of two or more of the following situations:
Using public transportation

Being in open spaces

Being in enclosed spaces

Standing in line or being in a crowd

Being outside of the home alone
People with agoraphobia often avoid these situations, in part, because they think being able to leave might be difficult or impossible in the event they have panic-like reactions or other embarrassing symptoms. In the most severe form of agoraphobia, an individual can become housebound.
Separation anxiety disorder: Separation anxiety is often thought of as something that only children deal with; however, adults can also be diagnosed with a separation anxiety disorder. People who have separation anxiety disorder have fears about being parted from people they are attached to. They often worry that some sort of harm or something untoward will happen to their attachment figures while they are separated. This fear leads them to avoid being separated from their attachment figures and avoid being alone. People with separation anxiety may have nightmares about being separated from attachment figures or experience physical symptoms when separation occurs or is anticipated.
The good news is that most anxiety disorders get better with therapy. The course of treatment depends on the type of anxiety disorder. Medications, psychotherapy ("talk therapy"), or a combination of both can usually relieve troubling symptoms.
"Anxiety disorders are one of the most treatable mental health problems we see," says Dr. Daniel Pine, an NIH neuroscientist, and psychiatrist. "Still, for reasons we don't fully understand, most people who have these problems don't get the treatments that could really help them."
One of the most common anxiety disorder types is a social anxiety disorder or social phobia. It affects both women and men equally—a total of about 15 million U.S. adults. Without treatment, social phobia can last for years or even a lifetime. People with social phobia may worry for days or weeks before a social event. They're often embarrassed, self-conscious, and afraid of being judged. They find it hard to talk to others. They may blush, sweat, tremble, or feel sick to their stomach when around other people.
Other common types of anxiety disorders include generalized anxiety disorder, which affects nearly 7 million American adults, and panic disorder, which affects about 6 million. Both are twice as common in women as in men.
People with generalized anxiety disorder worry endlessly over everyday issues—like health, money, or family problems—even if they realize there's little cause for concern. They startle easily, can't relax, and can't concentrate. They find it hard to fall asleep or stay asleep. They may get headaches, muscle aches, or unexplained pains. Symptoms often get worse during times of stress.
People with panic disorder have sudden, repeated bouts of fear—called panic attacks—that last several minutes or more. During a panic attack, they may feel that they can't breathe or have a heart attack. They may fear a loss of control or feel a sense of unreality. Not everyone who has panic attacks will develop panic disorder. But if the attacks recur without warning, creating fear of having another attack at any time, then it's likely panic disorder.
Treatments and Therapies
Anxiety disorders are generally treated with psychotherapy, medication, or both. There are many ways to treat anxiety, and people should work with their doctor to choose the best treatment for them.
Psychotherapy
Psychotherapy or "talk therapy" can help people with anxiety disorders. To be effective, psychotherapy must be directed at the person's specific anxieties and tailored to their needs.
Cognitive Behavioral Therapy
Cognitive Behavioral Therapy (CBT) is an example of one type of psychotherapy that can help people with anxiety disorders. It teaches people different ways of thinking, behaving, and reacting to anxiety-producing and fearful objects and situations. CBT can also help people learn and practice social skills, which is vital for treating social anxiety disorder.
Cognitive therapy and exposure therapy are two CBT methods that are often used, together or by themselves, to treat social anxiety disorder. Cognitive therapy focuses on identifying, challenging, and then neutralizing unhelpful or distorted thoughts underlying anxiety disorders. Exposure therapy focuses on confronting the fears underlying an anxiety disorder to help people engage in activities they have been avoiding. Exposure therapy is sometimes used along with relaxation exercises and/or imagery.
CBT can be conducted individually or with a group of people with similar difficulties. Often "homework" is assigned for participants to complete between sessions.
Medication
Medication does not cure anxiety disorders but can help relieve symptoms. Medication for anxiety is prescribed by doctors, such as a psychiatrist or primary care provider. Some states also allow psychologists who have received specialized training to prescribe psychiatric medications. The most common classes of medications used to combat anxiety disorders are anti-anxiety drugs (such as benzodiazepines), antidepressants, and beta-blockers.
Anti-Anxiety Medications
Anti-anxiety medications can help reduce the symptoms of anxiety, panic attacks, or extreme fear and worry. The most common anti-anxiety medications are called benzodiazepines. Although benzodiazepines are sometimes used as first-line treatments for generalized anxiety disorder, they have both benefits and drawbacks.
Some benefits of benzodiazepines are that they effectively relieve anxiety and take effect more quickly than antidepressant medications often prescribed for anxiety. Some drawbacks of benzodiazepines are that people can build up a tolerance to them if they are taken over a long time and may need higher and higher doses to get the same effect. Some people may even become dependent on them.
To avoid these problems, doctors usually prescribe benzodiazepines for short periods, a practice that is especially helpful for older adults, people who have substance abuse problems, and people who become dependent on medication easily.
If people suddenly stop taking benzodiazepines, they may have withdrawal symptoms, or their anxiety may return. Therefore, benzodiazepines should be tapered off slowly. When you and your doctor have decided it is time to stop the medication, the doctor will help you slowly and safely decrease your dose.
For long-term use, benzodiazepines are often considered a second-line treatment for anxiety (with antidepressants being considered a first-line treatment) as well as an "as-needed" treatment for any distressing flare-ups of symptoms.
A different type of anti-anxiety medication is buspirone. Buspirone is a non-benzodiazepine medication specifically indicated for treating chronic anxiety, although it does not help everyone.
Antidepressants
Antidepressants are used to treat depression, but they can also help treat anxiety disorders. They may help improve the way your brain uses certain chemicals that control mood or stress. You may need to try several different antidepressant medicines before finding the one that improves your symptoms and has manageable side effects. A medication that has helped you or a close family member in the past will often be considered.
Antidepressants can take time to work, so it's important to give the medication a chance before reaching a conclusion about its effectiveness. If you begin taking antidepressants, do not stop taking them without a doctor's help. When you and your doctor have decided it is time to stop the medication, the doctor will help you slowly and safely decrease your dose. Stopping them abruptly can cause withdrawal symptoms.
Antidepressants called selective serotonin reuptake inhibitors (SSRIs), and serotonin-norepinephrine reuptake inhibitors (SNRIs) are commonly used as first-line treatments for anxiety. Less-commonly used — but effective — treatments for anxiety disorders are older classes of antidepressants, such as tricyclic antidepressants and monoamine oxidase inhibitors (MAOIs).
Beta-Blockers
Although beta-blockers are most often used to treat high blood pressure, they can also help relieve the physical symptoms of anxiety, such as rapid heartbeat, shaking, trembling, and blushing. When taken for a short period of time, these medications can help people keep physical symptoms under control. They can also be used "as needed" to reduce acute anxiety, including preventive intervention for some predictable forms of performance anxieties.
Choosing the Right Medication
Some types of drugs may work better for specific types of anxiety disorders, so people should work closely with their doctor to identify which medication is best for them. Certain substances such as caffeine, some over-the-counter cold medicines, illicit drugs, and herbal supplements may aggravate the symptoms of anxiety disorders or interact with prescribed medication. Patients should talk with their doctor to learn which substances are safe and which to avoid.
Choosing the right medication, medication dose, and treatment plan should be done under an expert's care and based on a person's needs and medical situation. Your doctor may try several medicines before finding the right one.
You and your doctor should discuss:
How well medications are working or might work to improve your symptoms

Benefits and side effects of each medication

The risk for serious side effects based on your medical history

The likelihood of the medications requiring lifestyle changes

Costs of each medication

Other alternative therapies, medications, vitamins, and supplements you are taking and how these may affect your treatment; a combination of medication and psychotherapy is the best approach for many people with anxiety disorders

The medication should be stopped (Some drugs can't be stopped abruptly and must be tapered off slowly under a doctor's supervision).
For more information, please visit Mental Health Medications Health Topic webpage. Please note that any information on this website regarding medications is provided for educational purposes only and may be outdated. Diagnosis and treatment decisions should be made in consultation with your doctor. Information about medications changes frequently. Please visit the U.S. Food and Drug Administration website for the latest information on warnings, patient medication guides, or newly approved medications.
We would like to acknowledge NIH News in Health
Mental Health and Well-Being of Biomedical Researchers: Anxiety and Anxiety Disorders–NIH OITE